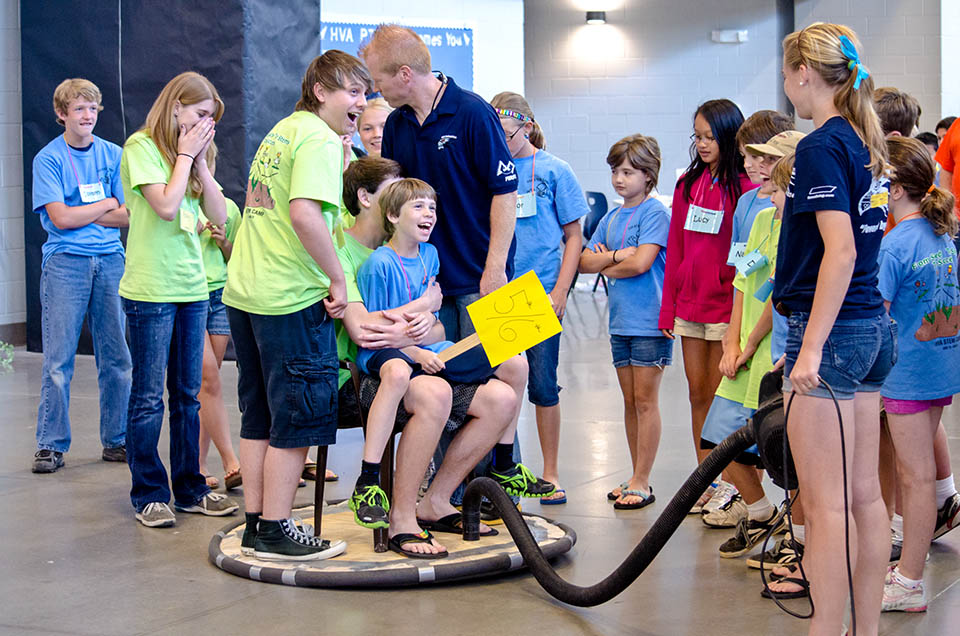 Announcement Date: January 1, 2012
Rebound Rumble
In their second year, Team 3824 sought sponsorship from the Oak Ridge National Laboratory (ORNL), which included the opportunity to move our work place from "the closet" to the state-of-art Manufacturing Demonstration Facility (MDF). At the MDF, they had the advantage of using additive manufacturing, commonly known as 3-D printing, in the making of our robot. At the Smoky Mountain Regional the team won the Industrial Design Award sponsored by General Motors.
Outreach-
We were invited to present our competition robot at the 

Cookeville FLL Regional for the second year in a row. We have been invited to this event every year since.

The team volunteered at the Farragut Fall 5K Dog Walk, encouraging runners and their dogs.

We continued to bring our promobot to school sporting events to raise awareness for the team.

Team 3824 assisted in running a STEM camp at Hardin Valley Academy. There, they built a Hovercraft for the STEM Camp members to hover on in 2012 and we have showcased our robot since then in addition to providing help.


The team met with Atlanta area teams at Hardin Valley Academy to share information and tips on FRC over a BBQ.

The team chucked stalls and cleaned water buckets at Shangri la Therapeutic Ac

ademy of Riding (STAR); several team members became involved in a 10 week p

rogram assisting the riders at the academy. The team also raised money for horse food by selling glow sticks at school football g

ames.

This was the first year that the team hosted Lunch and Learn. Lunch and Learn was a lunch on Saturdays at the MDF where several area team's met and discussed their progress.

Team members spoke to rookie teams at the Oak Ridge meet and greet.They offered advice and help for the upcoming season.
John Bachelor: 

University of Tennessee 

Kevin Brandel: 

University of Tennessee 

Nathan Caraveo: 

Military Service- Navy 

Emily Finley: 

University of Tennessee 

Kyle Goodrick: 

University of Tennessee 

Davis Hayes: 

Tennessee Tech 

Philip Keller: 

Virginia Tech 

Andy Kirk: 

University of Tennessee 

Micah Kohler: 

University of Tennessee 

Andrew Messing: 

University of Tennessee 

Josh Penney: 

University of Tennessee 

David Vaigneur: 

Clemson 

Ryan Wagner: 

University of Tennessee 

Aaron Young: 

University of Tennessee