We have done some minor rebranding, and as a result we have developed a new logo! While the hawk head did not change, we have replaced Team with FRC in front of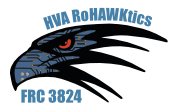 the team. This is consistent throughout all of of our documents developed in this season.
Additionally, we have developed an epic steampunk version of our logo. While it may not replace our actual logo, look out for it on buttons and whatnot.