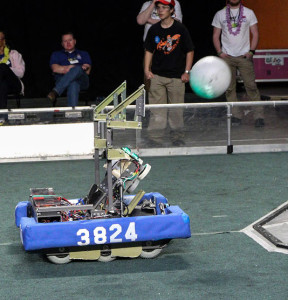 Team 3824 is happy to announce that they will be attending St. Louis not only with our Smoky Mountain Regional(SMR) alliance, but also the three SMR finalist teams.
At this latest regional, team 3824 won the playoffs with their alliance members Team 2481, the Roboteers, and Team 4740, The Sparta Bots. Additionally, every team from the finalist the alliance had previously qualified for worlds or got wildcarded.
At SMR the team set a personal high score with their alliance, ending with a total of 210 points.
Don't worry! If you missed the event and the live stream, all of our matches can be found on our Youtube channel.
 Can't wait to see everyone at worlds!