If you would like to help support our team, check out the link below. We have three different sponsorship levels. If you are interested in more sponsorship opportunities, please contact us directly. To find out more, contact our team adviser. John Tilson: john.tilson@knoxschools.org.
You can donate now through the HVA Foundation. Be sure to click donate at the bottom of the page and then be sure to mention the HVA RoHAWKtics in the notes section!
Sponsorship levels:
Copper- $500
Cobalt- $1000

Logo on T-Shirt
Copper Benefits

Carbon Fiber- $2,000

Logo on robot
Cobalt benefits
Funding for competitions is a major concern for the Hardin Valley Academy FIRST Robotics team. Generally, a team needs about $100,000 to $120,000 a year for travel, competition costs and robot construction, depending on if they make it to Worlds in Houston. The HVA Robotics students will spend an intense 6 weeks working every night and weekend to construct the most efficient robot. From this experience, the students learn to work collaboratively, experience real world application of classroom curriculum, and develop invaluable problem solving skills. In addition, many of the mentors are engineers within the community. Working directly with these professionals allows the students to experience career opportunities first-hand while establishing a relationship with the mentors.
The benefits of sponsoring a team are numerous. Since 1989, the FIRST Robotics Competition has grown from 28 teams involved to well over 2,200 teams. 87% of the high schools and their company mentors stay involved year after year establishing a relationship with the school and the community. Sponsoring a team has a proven positive impact on student interest in engineering. Participants learn the great values of teamwork, self-sufficiency, character, time management, speed, etc. which can be difficult to teach in a traditional classroom setting. In most schools, participation in the FIRST Robotics Competition has had a broad positive impact beyond the team itself. The FIRST Robotics Competition is a varsity sport in many yearbooks, which allows the students to participate in a sport; which they may not have otherwise done. FIRST has received major media coverage of events since the widespread impact of the FIRST Robotics Competition. Corporate logos are displayed on the web site; t-shirts and apparel; and media announcements regarding the HVA Robotics team. Hardin Valley Academy's Robotics team looks forward to the opportunity to partner with any business and will be happy to discuss sponsorships.
Here is a quick breakdown of our team expenses:
Unlike other school organizations, Team 3824 in unable to support its self through bake sales. If the team was to attempt to fund themselves via bake sales, they would be required to sell their products for $1 in order to be competitive with other organizations and make a profit.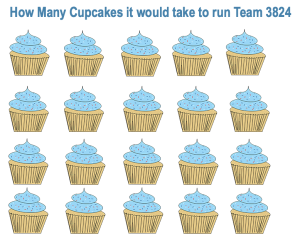 Each cupcake = 6,000 cupcakes
Team 3824 would have to sell 120,000 cupcakes to fund themselves. Each cupcake would be sold for $1.