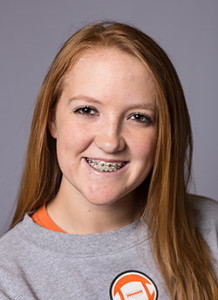 The student spotlight is Jodie Parham!
What's your favorite subject? Why?
-Math- I'm good at it and I enjoy the intricacy of numbers
If you had to choose your favorite thing about Robotics, what would it be and why?
-Devising strategies to compete and then watching your strategy come into effect at competition
What motivated you to join the team?
-I did FLL as a child and my brother was on the team. My dad is also a mentor
What have you gotten out of Robotics?
-An expanded knowledge and experiences
What's your favorite pun that John Tilson has said?
-Whenever he uses the word udder in terms of butter or cows
What would be your dream job?
-Civil engineer
What do you do outside of school and robotics?
-Softball and tennis
What do you think will be the best part of the competition?
-Watching the intensity of the matches
Do you plan on using robotics in your future in any way?
-Yes
Have you thought about where you'll go to college and if so where?
-Yes. I want to go to good engineering school, and I've always been partial to UT.
Student Spotlight of the Week 1/23/15