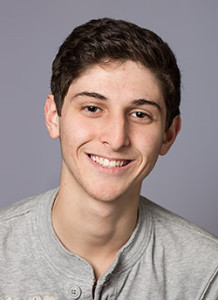 This week's student of the week is Marc Blanshey!
What's your favorite subject? Why?
-Mathematics, my performance is the best in math because of earlier time spent in a boot camp style private school.
If you had to choose your favorite thing about Robotics, what would it be and why?
-It's all a combination of the teamwork and friendliness.
What motivated you to join the team?
-I enjoy working with my hands and constructing mechanisms that serve a beneficial purpose for other people.
What have you gotten out of Robotics?
-Friendships and useful knowledge I'll definitely be using in the future.
What's your favorite pun that John Tilson has said?
-Week and weak.  *laugh*
What would be your dream job?
-Working together with my father making his custom aircrafts.
What do you do outside of school and robotics?
-There is nothing outside robotics and school.
What do you think will be the best part of the competition?
-Lodging and watching the competition.
Do you plan on using robotics in your future in any way?
-I would enjoy using what I've learned in a job that fuses creativity and fun.
Have you thought about where you'll go to college and if so where?
-University of Tennessee.
Student Spotlight of the Week 1/19/15