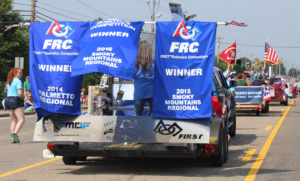 Team 3824 has been active over the course of the summer. Over the summer they:
They participated in there first German exchange. A few of our members went to Germany to spread FIRST in Germany and established a FIRST Technology Challenge team. Also they intend on continue this exchange in the future to establish a FIRST Robotics Team.
They were invited to the Indiana Robotics Invitational. This is a event in which 69 teams go to Indiana and compete in a competition, during the off season. At this event the team made it to the quarter finals on a alliance with team 330 and team 2481, the current world champions.
 They participated in the Farragut 4th of July parade.
The team's design captain Kaitlin held Solid Works design classes.
They attended Robotics Revolution.
 At Valleypalooza they explained what FIRST Robotics is about to up coming freshman who may be interested in robotics.