2016 EERE Robotics Internship: The U.S Department of Energy and the Energy Efficiently and Renewable Energy  office offered a Robotics Internship. Team 3824 was used as an example of what could be accomplished through the internship .
2016 Robots: Behind the Design: Team 3824 was featured in the FIRST book Robots: Behind the Design for their work with 3D printing.
2015 Football Games: Team members sold glow sticks at home football games as a fundraiser for Mighty Maya.
2014.2015 Fantasy of Trees: Team 3824 decorated a christmas tree to be sold at the Fantasy of Trees which is a fundraiser for the East Tennessee Children's Hospital.
2014 Homecoming: Team members sold glow sticks at the homecoming football game for East Tennessee Children's Hospital.
2014 "Red, White, and Blues": Team 3824 attended the Pre-Independence day picnic hosted by the Farragut Business Alliance.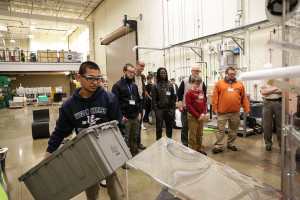 2014.2016 TN School for the Deaf Visited the MDF: We introduced them to ideas of STEM education and
FIRST, so that they could start their own STEM class. In 2016 they became a part of team 3824.
2014 Week 0-1 Scrimmage: Team 3824 hosted a week zero minus one scrimmage for 11 teams at the Manufacturing Demonstration Facility.
2014 3D Printing Demo Kick-Off: This was an hour and half presentation on additive manufacturing and how to utilize CAD and the 3D printers. We also explained characteristics of each printer and common problems and how to fix them.

2014 3D Systems: It is a partnership between RoHAWKtics and 3D Systems to create a catalog of parts that can be made using desktop printers and push additive manufacturing in FIRST robotics.
2013.2014 The introduction of 3D printers in FIRST Choice: RoHAWKtics Mentors at ORNL pushed for and paid in part for the introduction of desktop 3D printers.
2013.2014.2015 Glasses (and Calculators) for Ghana: We collected calculators and glasses with the help of our community and donated them to Dr. Lane, in which he took them on his visit to Ghana in which he prescribes glasses to children in need and he gave the calculator to the areas local school.
2013 Alcoa Regional Advanced Manufacturing Partnership (RAMP): Assisted LJ Robinson in promoting TN FIRST, talked to local manufactures and companies, and talked about the importance of STEM education.
2013.2014.2015 STEM Night: Team members attended Bluegrass Elementary's STEM night where they showed the robot and a small 3D printer to the students.
2013 Sequoyah Hills Elementary School Engineering Night: Our team showcased our competition bot and our promo-bot to students and parents, as well as talking to them about FIRST, FLL, and our program.
2013.2014.2015 Farragut Fourth of July Parade: Our team walked in the parade and spread word of FIRST, giving out flyers and candy, along with our past years robots on a Fourth of July Float we made.
2013 Optimist Club: Our team presented the ideals of FIRST, the importance of STEM education, and we presented our competition robot at this event.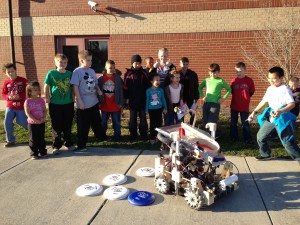 2013.2014.2015 Dogwood Elementary Art Show: We showcased the robot to the elementary school students and spoke to them about FLL and the Smoky Mountain Regional and introduced them to the world of robotics.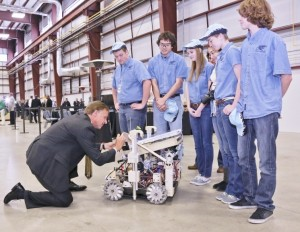 2013 Carbon Fiber Facility Ribbon Cutting: Our team talked to Governor Haslam and other dignitaries about our program and we showcased our robot.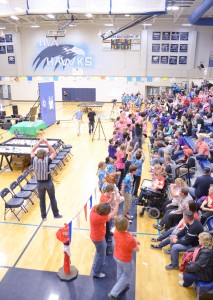 2013.2014.2015 Hosted FLL Tournament in Knoxville, TN at Hardin Valley Academy: We hosted the first FLL qualifying tournament in East TN.
2013 Defense Manufacturing Conference (DMC): In Orlando, Florida at the Defense Manufacturing Conference we showcased our robot and highlighted ingenuity and partnership at the MDF between FIRST teams.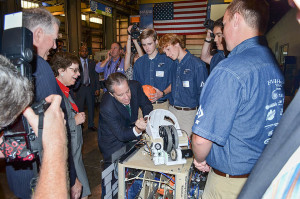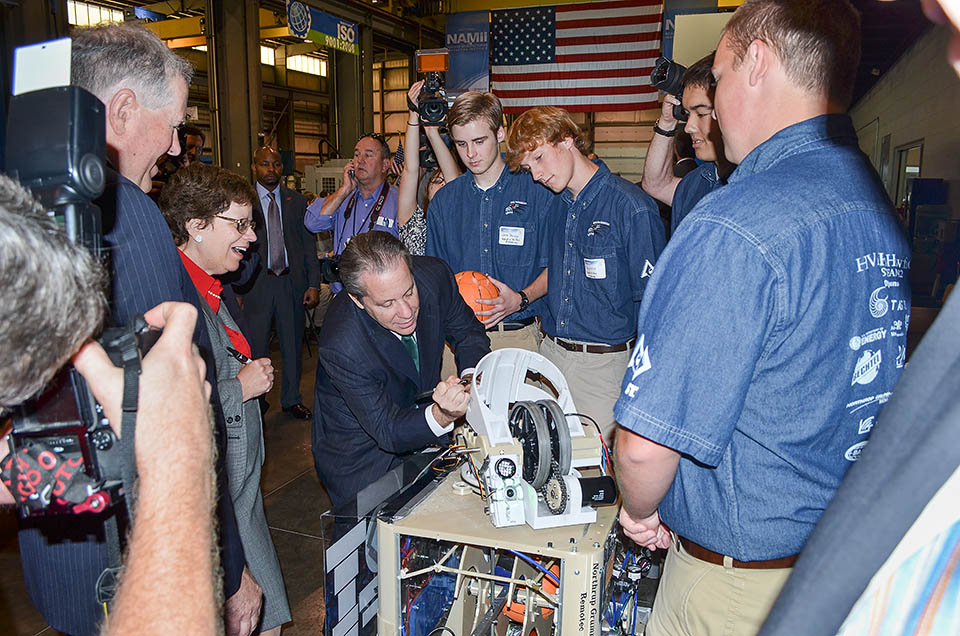 2013 National Additive Manufacturing Innovation Institute (NAMII): In Youngstown, Ohio at a government initiative in additive manufacturing our team displayed our robot and spoke to many CEOs and important individuals about our program, such as Under Secretary of Defense, the Chief Economic Advisor to the Whitehouse, and the Secretary of Congress.
2013 Y-12 FRC Event: We presented our robot and spoke at the engineering expo.
2013 Dignitary Day: We hosted an event in which we invited our sponsors and community leaders to the MDF, where we gave them a tour of the facility and showed them all we do as a FIRST team.
2013 National Engineering Forum Regional Dialogue: We spoke to university individuals, businessmen, and scientists about FRC and we showcased our competition robot.
2013 The 2013 FIRST Kick-Off in Conjunction with UT at the MDF: We hosted the 2013 FIRST Kick-Off in Conjunction with UT at the MDF, showing a field our Alumni built with Tech 20/20 and streaming the NASA Kick-Off.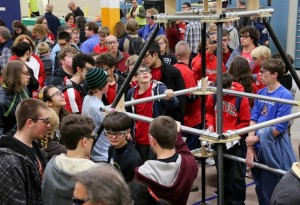 2012.2013.2014.2015.2016 Lunch and Learn: We host a FRC game collaboration over lunch on Saturdays at the MDF, sharing ideas, tips, and strategies.
2012.2013 Oakridge High school Meet and Greet: Our team spoke to Rookie Teams to give advice and help on the upcoming season.
2012.2013 Lab Rats, Android Architects Mentoring/Workshop: We mentored and sponsored these two FLL teams.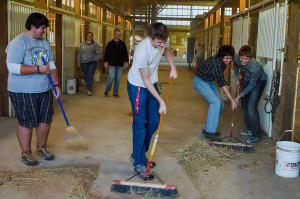 2012 Shangri la Therapeutic Academy of Riding (STAR): Our team chucked stalls and cleaned water buckets at STAR, as well as some team members became involved in a 10 week program assisting the riders at the academy. We also raised money for horse food by selling glow sticks at school football games.
2012 Atlanta Area Robotics Teams: Atlanta area teams and the RoHAWKtics gathered at Hardin Valley Academy to share information and tips on FRC over a BBQ.
2012.2013.2014.2015 STEM Camp: Our team built a Hovercraft for the STEM Camp members to hover on in 2012 and we have showcased our robot since then in addition to helping.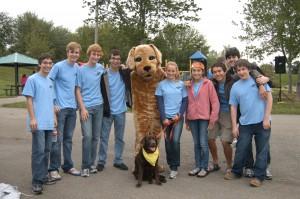 2012 Farragut Fall 5K Dog Walk: Our team volunteered at the Farragut Fall 5K Dog Walk, encouraging runners and their dogs.
2011.2012.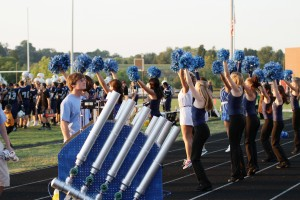 2013 FLL Cookeville: We were invited to present our competition robot and our promo-bot to the FLL students there and tried to inspire them to join FRC.
2011.2012.2013.2014.2015: Promo-Bot at Football Games: We built a T-shirt cannon during the fall season to promote FIRST, robotics, and our sponsors at school football games and select events.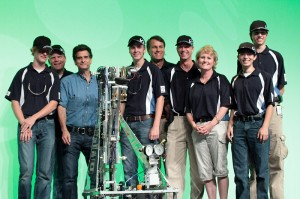 2011 Allscripts in Nashville: At the National conference for the Allscripts Pharmaceutical Conference, where over 5,000 people attended, Dean Kamen presented the Keynote address, with our team as guest speakers, to try inspire companies to mentor new FIRST teams all over the country.
2011 Engineering Day at UT: Students from all over East TN came to the event and were intrigued by FRC.
2011 Sullivan County School Board: Consulted with Sullivan County School Board to start their own teams.